It's been a good week and weekend for the most part...
Moms are awesome

- It usually goes without saying that when I go home, I end up forgetting something. This time it was my extra camera battery and charger. So, she sent it in the mail and happened to pack some

Reeses

Peanut Butter Cups in there with a little note. My mom is awesome.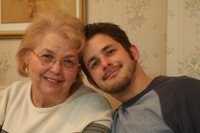 My awesome mom and I
Finished my Syllabus

- I finally got a good handle on my syllabus for this semester. There wasn't quite enough animation exercises in it initially for my liking so I added a few more exercises. My goal is to get the students doing as much animation as possible. I don't remember what animator it was who said, "You've got 10,000 bad drawings in you, so you might was well get through them as fast as you can." It applies in 3d as well, we learn by making mistakes and the more work we do, the more we'll grow. I'm gonna do my

darndest

to do all the exercises with my students cause, frankly, I don't get to do a whole lot of full body

keyframe

animation at work and I miss it. It'll be a good reason to finish Olaf as well (I'm trying Cory!)

"The Brothers Karamazov"

- The beast is completed. I started this behemoth of a book about six months ago and have been struggling through it since. It was an

absolutely

fantastic read though a bit verbose. You could easily split it into a trilogy and still have three complete books. The book follows a very screwed up family of a

dysfunctional

hedonistic father and his three sons. There's a murder, and

fantastic

trial and more insanity than one would think could be crammed into a novel...yet crammed it is.
My Cousin's

Improv

Show - Thursday night, I went to an

improv

show's opening night that my cousin is spearheading with another

improv

friend of his. There were four

improv

troupes for two hours of comedy for the low low price of $5. It was a lot of fun. If you live in

Chitown

and want good comedy for not a lot of money, check it out. It meets in a little arts center at Western and North, but you can check the site for more info. There going to have different groups each week so it won't be the same show if you wanna try it a couple of times.

"The Office" is Back

- There was a new episode of The Office this week and....wow...just wow...no show makes me cringe one moment and then roll over laughing the next like this one.

New Year Resolutions

- So, I need to make some resolutions, so here they are:

Visit the following:

My best friend Ryan in Oregon to do some

fly fishing

My uncle in Colorado for some horseback riding, hiking and, frankly, cause I don't see him enough
My brother and

ragamuffinephews

cause I don't see them nearly enough

Come up with another Short film and get it AT LEAST through the story board phase
To finish Olaf
To do at least 30 seconds of reel worthy full body hand key animation
To get more involved in volunteering somewhere
To kick the snot out of my student loans
That is all.